Outdoor Living: Under Cover
211410
authors Kyle Clapham | October 10, 2019
More than 83 percent of remodelers say they completed an outdoor living project in the last year, according to a survey from Qualified Remodeler's 2019 Outdoor Planning Guide. The most-cited motivation for a job was to add entertaining space, although the number of respondents who said it drove the project decreased more than 5 percent from 2018 (42.2 percent) to 2019 (37 percent).
The largest gain in client motivation for a job was to make existing outdoor spaces more functional, which rose nearly 5 percent from 2018 (10.4 percent) to 2019 (15.1 percent). Covered areas increase the usefulness of an outdoor living project because they mitigate the elements, whether a homeowner wants to entertain guests, cook and dine with the family or just relax and enjoy the scenic views outside.
Understanding why the client desires a covered space outdoors helps the remodeler maximize the benefits of a project. The goals of a homeowner will determine aspects such as square footage of the area, distance from the house, building materials used and the amenities incorporated into the design. An outdoor covered space also brings its own set of challenges that need to be addressed.
The Big Picture
"The first thing that we start with is why are they doing the project? What are they trying to do? What are their goals?" says Craig Durosko, founder and chairman of Sun Design Remodeling Specialists in Burke, Virginia. "We have some clients who are empty nesters, and their kids are gone. But maybe all the kids come home, and they're married, so it could be swell up to where they want to have 12 people out there together. It's really understanding what we're designing to and also understanding how they live, what their day-to-day [life] looks like.
"When they entertain is it usually just six people, like three couples, or is it more like 50 people? Because that's really going to create different bottlenecks in each one," he continues. "And then it's trying to figure out what's going to work for the environment, as far as a design environment."
A client brought two different designs from a pool company, for example, but each plan required relocating the septic drain fields to install the pool. "In reality, they wanted a place for the whole family to gather around," Durosko explains. "All the entertaining areas were to bring the family together; but the pool wasn't the main focus, so we eliminated the pool and didn't have to move the septic fields."
In the Pacific Northwest, homeowners want to utilize their outdoor space and be outside as much as possible while staying both dry and warm, says Jennifer VanderBeken, co-owner and general manager of VanderBeken Remodel in Tulalip, Washington. "You do have to think big picture at first, looking at where you want this [cover] and seeing how it's going to sit with that roofline," she notes. "Is it going to be separate or does it need to blend with it? When I say big picture it's those things, not the details that people get excited about, the finishes, which fuel their passion.
"The [cover] needs to be able to withstand everything," she adds. "It needs to be a roof just like you would put on a house, with shingles, or you can do a green roof where there's grass but with slope to it. You've got to have water run off the right [way], and then the right dispersement of that when it hits the gutter and comes down. You can work that into your landscaping as well."
Many clients approach Jeff Titus with ideas they gleaned from HGTV and websites like Houzz, so he does not have to pitch his own quite as often. But they need to be reminded that the spaces should be an extension of the house and look like they were always there, says Titus, general manager of Titus Built in West Redding, Connecticut. He also notices that homeowners get more use out of an outdoor covered area the closer the space remains to the house.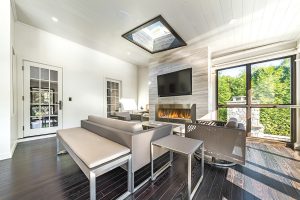 Easily Accessible
Because of the Northeast climate, the majority of clients eventually opt for a three-season room, Titus notes. If homeowners do not enclose the space, then they are more likely to install heating elements in the ceiling of their covered area to deal with the colder weather. VanderBeken also finds that many homeowners within the Pacific Northwest request some type of built-in heater.
"A lot of my clients have an existing something, whether it's a patio or deck," Durosko explains. "We'll start by asking, 'How often do you use it? What do you like about it? And what doesn't work?' If one of the things is too much sun, that's where the covering goes. Also, the other issue in our area is a lot of bugs, mosquitoes. They might not want to use the space if there's too many bugs. Screening in that area allows a bug-free environment to be outside and enjoy the weather."
For a recent project, the company designed an outdoor sitting area with a TV where the clients could go eat and then enjoy the morning in their screened patio. On another job, Sun Design Remodeling installed a pizza oven for the owners. "That way they could have guests over and they could actually sit there and make pieces and cook them while they were entertaining," Durosko says.
"Some of the challenges we run into is when you're putting a roof out there, obviously you're going to block some sun from the adjacent area," he continues. "A lot of times these rooms are off kitchens, which you want to be very bright and airy. So designing the roof structure outside to not reduce as much light as possible in the inside, through either a vaulting of the ceiling or skylights or some other design features that let the light through."
In fact, the company recently installed a folding wall that opened up the kitchen into the screened porch area on top of the counter. "The kitchen is often the most-used room in the house, so if you can tie the outdoor project into the kitchen, it tends to get used more often. It's easily accessible."
Other possible features include a ceiling fan, fireplace, fire pit or even an outdoor kitchen, which needs proper ventilation in a covered area. "Some require full venting just like if it was inside, so meeting all the building codes if it's inside a screened-in porch or covered porch," Durosko says.
"If you have freezing temperatures, the outdoor refrigerators sometimes have to be removed," he adds. "But definitely your water heater, you've got to think about how you're going to get water out to the sink. In our area, you have to bring the water back into the sewer line too. So you have to bring the water out to the porch and then tie it back into the sewer line."
Lighter Touch
Regardless of the project parameters, however, a remodeler must always consider the budget first and foremost, VanderBeken notes. "Because we want to make it realistic. You don't want to get to the point where they're like, 'OK, now he's designed it, but I can't afford this.' So you have to consider that from the beginning."
People often overlook lighting as well, Durosko says. "You don't think about it until you realize that at night all the windows of your house go dark. When you add an addition, even if it's just a porch, if you have lighting details in the porch—whether it's recessed lighting or lighting in deck rail—it makes the house feel bigger because you have this extended space beyond the kitchen or besides the space [itself]. And it looks good from the inside and outside.
"The last thing is ceiling treatment," he adds. "Because the porch is often adjacent to the kitchen, a lot of times if you go with a lighter ceiling it can reflect light back. So having lighter ceilings, like a white ceiling or a white beadboard, might allow more light into the kitchen versus a dark wood. But the dark wood might create a different effect, and so balancing the trends in colors and ceilings are just as important outside as they are to the impact of the existing space inside." QR